it's monday baby, time for some gossip. über die
furry friends
habe ich schon ausführlich berichtet, die folgenden
küken
, in ihrer aufgabe als ehefrau und tochter nicht weniger bedeutsam und liebesbedürftig als ein haustier, haben ihr schönstes federkleid angezogen und sind unbemerkt
durch die katzenklappe
in die realität entwichen. hätte nur jemand die mädchen nach aller kunst abgerichtet auf das well-being ihrer umwelt zu achten - ihr anblick verletzt jeden ansatzweise guten geschmack und
zerfleischt
ein gesundes sehvermögen im handumdrehen.
victoria beckham
sieht aus
, als wolle sie todtraurig gegen käfighaltung von neonhennen protestieren.
jennifer lopez besaß zwar schon immer zweifelhaften geschmack, etwas derartig abscheuliches hat sie allerdings selten getragen,
schwangerschaftslaunen
hin oder her.
und brooke hogan, tochter von hulk hogan,
defies any explanation
. michael von dlisted beschreibt dies ganz passend:
what innocent gay cat on acid had to die for that dress?!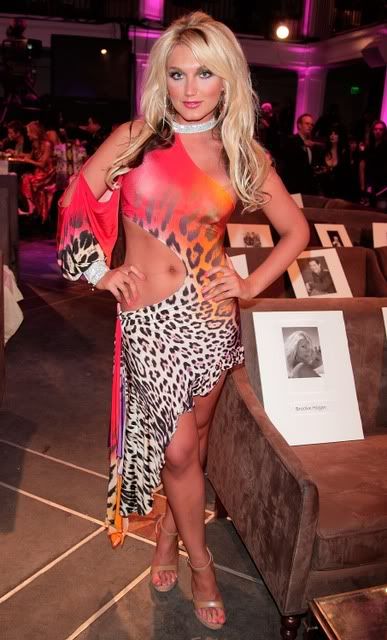 weiterhin hat das
out
magazine
exklusive shots von tom ford
mit den boys, gisele bündchen is a
foxy cat in vogue
und andy samberg präsentiert ein
lahme imitation von mr. kevin federline
.
da fällt mir gerade ein: die farbigkeit der präsentierten outfits verlangen geradezu nach
claudia roths
auftritt bei den bayreuther festspielen, und da harald schmidt damals ihr escada-kleid mit dem kommentar
eichhörnchen auf ecstasy
würdigte, fügt sich das foto nahtlos in die reihe der hollywood-hennen ein.
danke
herr waltz, dass sie sich um frau merkel gekümmert haben.